Iron mining in the area surrounding Gwinn began in 1872. The Cleveland-Cliffs Iron Mining Company (C.C.I.) acquired property in the area from other mining companies and started mining in 1902. In the first three years of C.C.I.'s operation, more than one million tons of ore was mined. Most of the mining was done in the Austin and Princeton area, and that is where Cleveland Cliffs' central office and testing lab was located.
<![if !vml]>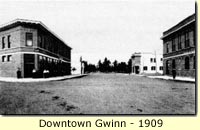 <![endif]>The president of C.C.I., William G. Mather, decided that a town should be built for the miners to live in. He chose a location that was both beautiful and was not positioned over any iron deposits. Gwinn would be a model town, which meant that it would be designed before it was built. The designing was done by Warren H. Manning, a prominent architect from Boston. Construction of the town began in 1907, and it was completed in 1910. The town was named after Mather's mother, Elizabeth Lucy Gwinn, and in honor of the Gwinn family.
During the building of the town, the course of the Escanaba River was changed to prevent flooding the mines. C.C.I. started the hospital, which had a capacity of 15, and Dr. MacIntire was the chief doctor for many years. The Gwinn Hotel opened after the construction of the town was complete. The Clubhouse was given to the community by Mather. It contained a bowling alley, a tennis court, a skating rink, a swimming pool, and it had showers in the basement for the miners to use. The Gwinn State Savings Bank opened in November 1908. A clock tower was built in 1914, but was torn down in 1990. The clock tower was restored to its full glory in 2014.  The K.I Sawyer Air Force Base was developed in 1955 and shut down in 1995. Presently Sawyer is a growing community of people, businesses, and activity.