Dear Alumni, Residents and Friends of Gwinn:
As many of you know, our town experienced a major facelift in 2007-2008, and after years of community planning and effort the Peter Nordeen Park and Pine Street Boulevard have been fully restored.
On Pine Street the trees have returned to the median and new sidewalks,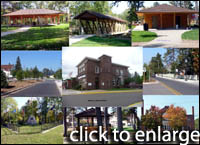 streetlights and fences have been installed. Downtown, the Peter Nordeen Park hasseen the restoration of the bandstand, the construction of a beautiful new Pavillion, Concession/bathroom facility, Canoe launch, and a covered Walking Bridge over the Escanaba River. The Park also has new crushed stone pathways, lighting, landscaping and a stone kneewall along Pine Street.
The improvements to our community landmarks have not stopped there; plans are going forward on much needed repairs to the Clubhouse thanks to Cleveland Cliffs Iron Co..
Pride in our town's appearance is returning. One vital piece is still missing however: THE CLOCK TOWER! The tower was removed for safety reasons in 1990 and since then many have called for its return. The momentum of the boulevard, park projects has led to the formation of a committee to rebuild the tower.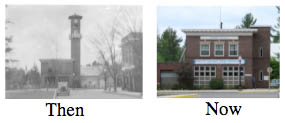 Comprised of local residents, representatives of the Forsyth Township Board, the Gwinn-Sawyer Area Chamber of Commerce, and the Forsyth Township Historical Society, the committee has been meeting for 3 years to determine the feasibility of the project. The good news is that the tower CAN be rebuilt. Engineering studies show the foundation to be sound and capable of supporting the tower. We also have the original clock faces and mechanical parts which can be reused.
We need your help. We received an estimate in August 2007 of $140,000 to rebuild the tower. That figure does not include engineering plans, painting, or expenses for refitting the clock itself, and obviously would have to be adjusted for inflation. We will seek grants to assist us with financing the renovation but even if we receive grants local matching funds will be needed. We cannot wait for someone else to do this for us.
To date we have raised $39,600 towards this Clock Town Restoration Project.
If you agree with us and would like to see the tower restored please consider sending your contribution of any amount to help move this project closer to becoming a reality in our lifetime.
Thank you.
Your Tax Deductible Donations can be sent to:
Clock Fund Forsyth Township Historical Society- a 501 © 3 Non Profit Organization
PO Box 851
Gwinn, MI 49841
Questions? Contact Jeanette Maki at the Gwinn-Sawyer Area Chamber of Commerce at 906-346-9666 or 1-888-346-4946, or by email at www.gwinnmi.com
Sincerely,
Gerry Stille, Chairman